The summer humidity is fading, the bugs are diminishing and tourists are headed to the north Georgia mountains to see the leaves. But if you really want to experience the absolute best of Georgia's great outdoors then a fall camping trip in the mountains is a must. Here are a few tips to help you make the most of this special time of year around Blue Ridge and Fannin County.
Picking a camping spot in north Georgia
Before you can get there, you've got to know where you are going! Some of the things to consider when picking the perfect camping spot include:
Is your potential camping spot near other activities you want to do, like sightseeing or fishing?
If you are staying at a campground or RV park, have you researched your choices to make sure they have the amenities that you want and hasn't received a lot of negative reviews?
If you are bringing a pet, make sure the location you choose is pet-friendly.
Leave early. As we move closer to winter it gets dark earlier, and setting up your camp with a flashlight is no fun.
Are you expecting visitors? If so a campground might lock the gate when it gets dark so you will want to make sure you know the hours, or risk the wrath of the campground ambassador.
Grab the Right Gear
Whether you're just getting away to the Georgia mountains for the weekend or are planning an entire vacation around your camping trip, knowing how you are going to protect your gear is just as important as bringing the right equipment. Here are some things to consider when it comes to camping equipment:
Buy a rain proof tent, and don't take the manufacturer's word for it. Test it before you leave by fully deploying it and spraying it with water. If your tent isn't going to protect you from the elements you will want to know that before you leave.
Buy at least one waterproof tarp (two is better). One tarp that is at least as big as your tent's footprint. Place it under the tent to protect your gear from the wet ground and to provide another layer of insulation against the cold. If it sticks out from under the tent fold it so that the tent completely covers it. That way it won't collect water, which can seep into the tent. Having another tarp on hand is really handy and can be used to protect your tent when it rains.
Besides your sleeping bag, be sure you bring along a sleeping pad as well to keep the cold ground at a safe distance from your sleeping body.
You may not need cold weather gear, but fall in the north Georgia mountains can be cool at times (especially at night). At minimum you should bring a light jacket and some form of rain gear to keep you dry if/when it rains.
A first aid kit and small survival kit that are easily accessible (or that you can carry on your person if you plan to hike) is important for those rare SHTF scenarios. Take the time to familiarize yourself with your kit BEFORE you need it.
Bring plenty of lighting. Flashlights, lanterns, extra batteries and lantern fuel.
Fall weather in the north Georgia mountains can suck sometimes, so don't assume that you will be able to find the dry kindling and firewood you will need at the campsite. Bring campfire starters and a bit of firewood to get you going if you have room in the car until you are able to source wood locally.
Invest in a good cooler. Yeah, Wal-Mart will sell you a big cooler for $15, but they are poorly insulated and will make access to fresh ice daily a necessity. You don't necessarily need to spend $400 on a Yeti Tundra, but something in the $50-$100 range will usually have twice the insulation of the cheap-o coolers (especially in the lid) and will be well worth the investment when your bologna isn't floating in water every morning.
Bring a variety of easy-to-make food and plenty of water, especially if you are not near a potable water source. If you're planning a fishing camping trip don't forget the cast iron, cornmeal and oil for frying up your catch!
Bring a box of large garbage bags to protect your gear from water, and make sure the food is stored properly to avoid attracting bears. Save any garbage bags you use to protect equipment for cleanup when it's time to pack out.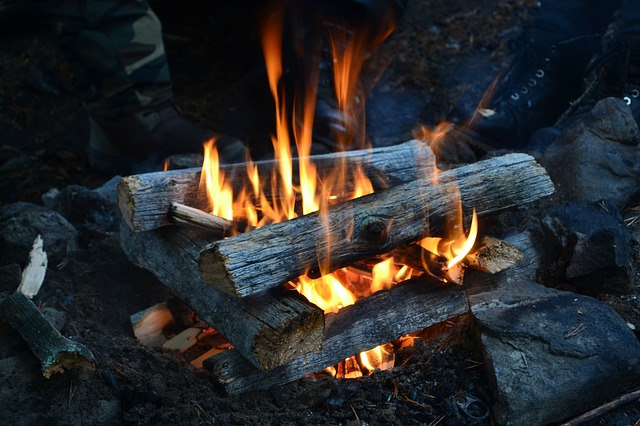 Setting Up the Campsite
Generally speaking camping itself isn't all that difficult. Eat, drink, commune with nature, sleep, repeat. But how you set up your campsite can have a big affect on the enjoyability of your camping trip, and as long as you followed rule #1 (set your tent up before you go camping) you're half-way there.
When pitching your tent obviously you will want to find the most level spot, but if you're forced to camp on a slope then orient your tent so that your feet will be downhill.
Again, make sure your food is stored so that animals (wild or otherwise) can't get to it. If you're not at a campground that provides storage lockers it's best to keep it in your car if possible. This is also important if you are leaving for any reason. If you can't lock your food up on-site then maybe it will fit in your car.
Packing Up
When it's time to go home, make sure all of your gear is as clean as possible so that you don't have to spend time cleaning it when you get home before storing it.
When putting out a fire be sure to douse it thoroughly with water and stick around until it isn't smoking anymore. If you just cover it up with dirt you won't smother the fire, you'll just create charcoal which can stay hot for a really long time.
The golden rule when it comes to nature, whether you're camping, hiking, fishing or hunting, is to leave the place cleaner than you found it. Not only should you make sure you do everything you can to erase your presence, it's also a good idea to police the area around your camp and pick up some of the trash left behind by others. Think of it as a nature tax.